As you go through life as I have, it is really no wonder you develop certain desires to do something with someone. In whatever industry, through some portent or omen, one reads about great people and wonder what it would be like working alongside them. Mentors are found this way. That is if you play your cards right and find yourself exchanging gossip over a pot of bouillabaisse. Throughout my career  I followed these people and what they do, piquing my interest on what could be. Some recent, some fanatical, others just out of curiosity.
Jamie Oliver – Top of  the list! The Naked Chef who was plucked  out at random while in the stewards of The River Cafe.
A brilliant chef who has made a name for himself, both literally and figuratively. Now he has several books, a great TV series. And with a flair of altruism has put up the Fifteen Foundation. I would love to cook Italian with him, particularly spend hours and a few beers over a roasting porchetta.
Nigella Lawson – Another British Chef whose claim to fame is
being the Domestic Goddess. Watching her sashay around her beautiful minimalist kitchen, its is no wonder some people have labeled the interaction as a sort of gastronomic orgy, food porn at its finest. Her pantry is a world in its own.
Madonn
a – Yes, that icon of the  80's who has transformed herself quite nicely into the cougar that she is now. Even though we would be munching on her raw food diet, it would be interesting what she gobbles down to keep herself fit.
Kris Aquin0 – Daughter of the late Corazon Aquino, to
some the  queen of tactless, an aspiring actress, game show host and mother. I would really like to fatten her up. Show her how sensuous food is. How life is not as serious as it she thinks. I would like to cut her down and plant her feet on the ground and say 'Hey! Come here, get your hands dirty and give this risotto a stir.'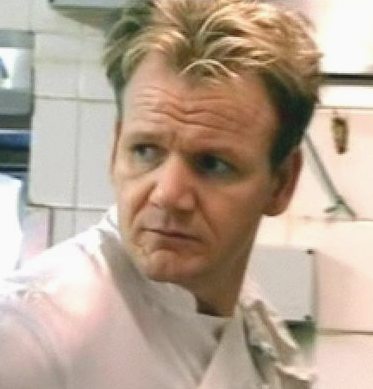 Gordon Ramsay – the volatile chef has the idealism that I always look for when I walk into a professional kitchen. His food is as straightforward as is methods, with no obvious signs of pretentiousness. And Rossana thinks he's hot.
Anthony Bourdain – the bad boy behind Kitchen Confidential. I would like to ask him to teach me what he knows. I would like to pick his brain with a fine toothed fork. We should have a beer together and talk about oysters and really analyze why anyone would eat rotten shark.
Sandra Bullock – an eternal fantasy for me. We could be making pasta together. Then ask her how she ended up with the descendant of Jesse James. I would also like to learn her favorite recipes.